It seeks to include women who are migrating in the social and work field through the kitchen and matches the year in which Barcelona is the World Capital of Sustainable Food
The Food Relations project lands in its third edition in the neighborhood of Sants, with the support of the Impulsem el que fas from the Barcelona City Council. Promoted by the Welfare and Development Association 'ABD', in collaboration with the Espigoladors Foundation. It arrives to the city of Barcelona after having been implemented in Milan, Thessaloniki, Freiburg, Hospitalet de Llobregat and El Prat de Llobregat.
It is a European initiative with a feminist focus that was born in 2018 and creates spaces for social, intercultural and inclusive participation of migrant women through food.
With the creation of a Healthy Intercultural Fusion Menu, for food harnessing, low cost and responsible, it seeks to seize and promote the socio-laboral activation of women from different cultural heritage that are unemployed and in a situation of vulnerability, from a social, economic and environmental point of view.
In this third edition, which will last until December 2021, the project will offer the following activities to 15 women of different backgrounds:
Intercultural Cooking Training provided by Espigoladors. As a result, two Intercultural Fusion Menu will be obtained.
Individual itineraries of orientation and support for the work -search or social and labour activation, in charge of ABD.
Training in ESS, collective entrepreneurship and menu storytelling, in charge of ABD.
Group-based pre-labour training activities based on needs (digital literacy focused on labour insertion, training capsules for employability enhancement, self-knowledge dynamics, etc.), by ABD.
Fusion Menu Presentation: If possible and secure, an event will be organized to present the Fusion Menu and be able to taste it.
Organisation and participation in Community activities which, in addition to promoting intercultural dialogue, serve as pre-labour experience for the group of participants.
Open enrollment
The Food Relations team searches 15 migrant women who are willing and interested in joining the program. It will be taken into consideration if they can devote an average of 5 hours per week to the project, have basic knowledge/interest in the kitchen, can communicate in Spanish or Catalan (although they have very basic levels) and regardless their administrative situation.
The selection process for participating women will take place this month of March to begin accompaniment and training in April.
To enroll in the program, the form of Selfcandidature filled before 31 March must be delivered to the address [email protected].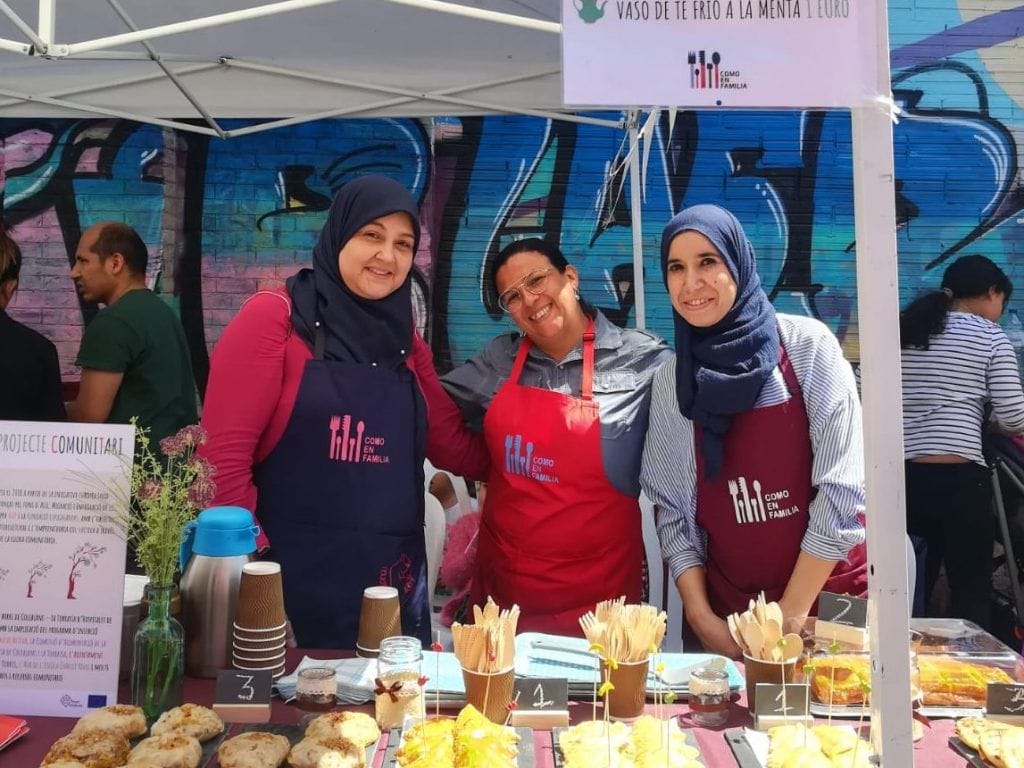 Response to the feminisation of poverty and the rise of racism and xenophobia
Food Relations comes up to respond to the racist and xenophobic abbots that the migrant population is suffering at European level, to the lack of sensitivity and responsibility of the institutions with regard to the protection of migratory and/or refugees, but also to the restoration of all the wills that they want to channel aid and solidarity towards these groups
Thus, the kitchen is presented as a key tool to promote the process of intercultural dialogue, as it is a human necessity, and at the same time an opportunity for exchange and (re)knowledge of cultures and traditions and of labor insertion.
The project also wants to contribute to reducing the feminisation of poverty. Precarization and impoverishment processes affect women in particular: among the impoverished population there is an increasing proportion of women, and especially immigrants, and/or working class, who are also at the head of family centres. Addressing the dynamics that characterise the labour market, through a heavy burden of gender (but also of geographical and class origin) is therefore paramount.
This year, the project coincides with the World Capital of Sustainable Food 2021 held by Barcelona.
Food Relations aims to contribute in particular to one of the main objectives of this strategy: to strive to promote healthy diets by facilitating access to food and combating social inequalities, while promoting traditional culinary knowledge and is (re)knowing and celebrating the diversity of cultures that enrich our territory.